Press Release: SLCPD Seeking The Identity of Aggravated Assault Suspects
March 18, 2015
In Memoriam: Detective David Olson (1980)
March 22, 2015
DNA Technology Identifies Bank Robbery Suspect.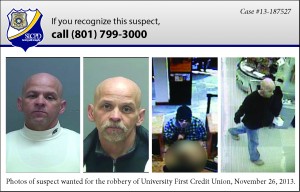 SALT LAKE CITY-  The Salt Lake City Police Department seeks the public's help to locate the suspect wanted for robbing the University Federal Credit Union at 490 E. 500 S. 
On November 26, 2013 at approximately 3:00 p.m. the suspect entered the University Federal Credit Union, approached a teller and demanded cash.  After the teller complied the suspect fled eastbound to a nearby business. 
SLCPD Robbery Detectives have been working the case and have identified the suspect through D.N.A analysis and video surveillance. The suspect has been identified as, 49-year-old Tracy Scott Velarde. Velarde has ties in Salt Lake City and Duchesne County, Utah. 
Velarde currently has a $50,000 warrant for robbery out of Salt Lake City Police Department. Velarde should be considered armed and dangerous.
The Police Department asks anyone who may know the identity or location of this suspect to call (801) 799-3000. Anonymous tips may be sent by text to 274637. Please start your text with  TIPSLCPD, which routes it to the police department. Then include any relevant information. Reference: case #13-187527.
###