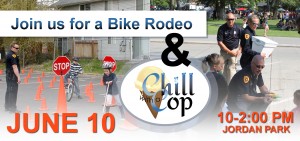 SLCPD Bike Safety Rodeo & Chill with a Cop Event Wednesday
Jordan Park-1060 S. 900 W.
SALT LAKE CITY — The Salt Lake City Police Department will be kicking off the first bike rodeo of its summer series in conjunction with the Chill with a Cop event for twice the fun!
The rodeo will give children an opportunity to learn bike safety and to practice road safety skills with their parents, and then enjoy a cool treat while engaging in conversation with officers. Community Intelligence officers will be on hand to answer questions about crime trends and public safety issues in the city.
Please bring your bikes and helmets, helmets are mandatory to participate!  We will have a limited amount of helmets for shared use and we will provide several bikes as well.  Join us for a fun-filled event.  We will provide the ice cream!
What: Bike Rodeo and Chill with a Cop event
When: Wednesday, June 10, 2015
Time: 10 a.m. – 2 p.m.
Where: Jordan Park – 1060 S. 900 W. (West parking lot)
This will be the first of four bike rodeos to be held across the city.  For a schedule of the upcoming bike rodeos click here.   The Salt Lake City Police Department has held many Bike Safety Rodeos over the years for the residents of Salt Lake City. They constitute a fun and exciting learning event about bike safety.
For questions email bikerodeoinfo@slcgov.com
###