SLCPD Evidence Disposal for January
January 17, 2017
Scam Alert: Calls from Police Phone Numbers Asking for Money to Avoid Jail
January 24, 2017
Police Seek Community's Help Identifying Robbery Suspects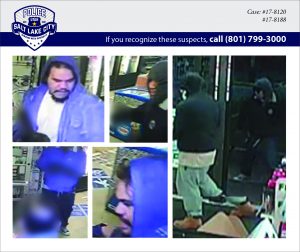 SALT LAKE CITY — The Salt Lake City Police Department asks the public's help in identifying these robbery suspects from two different robberies in Salt Lake City.
The first robbery occurred on Friday, January 13, 11:30 p.m. at Chegoya market, 202 South 900 East. After the robbery both suspects fled the scene possibly in a dark colored SUV. The second robbery was on Saturday, January 14, 2:13 a.m. at 7-11, 1609 South 1100 East. The suspects fled the area in a dark colored smaller type SUV. The suspects used a firearm in both cases and should be considered armed and dangerous.
Suspect's Description:
Both suspects are adult male Polynesian
Both are approximately 5 feet 8 inches tall, big frame, late 20's
Wearing black and blue sweatshirts, tan boots, and white shoes.
The Police Department asks anyone who may know the identity and/or location of this suspect to call (801) 799-3000. Anonymous tips may be sent by text to 274637. Please start your text with TIPSLCPD, which routes it to the police department. Then include any relevant information. Reference: case#17-8120.
###