In Memoriam: Sergeant Ronald Heaps (1982)
January 13, 2018
Press Release: SLCPD Seeks Persons of Interest in Assault Case
January 17, 2018
SLCPD Seeks Suspect in Maverik Robbery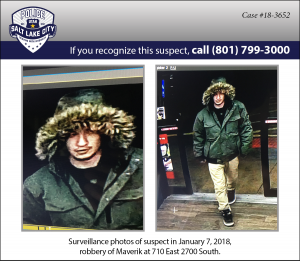 SALT LAKE CITY — The Salt Lake City Police Department is seeking the public's assistance in identifying a male (pictured above) that robbed a Maverik convenience store at 710 E 2700 S on January 7th, 2018, at approximately 7:20 am.
The suspect went into the Maverik, demanded money from the register and made motion as though he had a gun in his jacket pocket. He then exited the store and fled in an unknown direction. If you have any information or can identify this person, please contact the SLCPD.
Suspect's Description:
Asian or Hispanic adult male, likely in his 20's
Wearing a green coat with fur around the hood, tan pants and black shoes
Also had a thin mustache
The Police Department asks anyone who may know the identity and/or location of this suspect to call (801) 799-3000. Anonymous tips may be sent by text to 274637. Please start your text with TIPSLCPD, which routes it to the police department. Then include any relevant information. Reference: Case # 18-3652.
###