Press Release: SLCPD Seeks Suspect in Maverik Robbery
January 16, 2018
Press Release: SLCPD Seeks Persons of Interest in Homicide Cold Case
January 24, 2018
SLCPD Seeks Persons of Interest
in Assault Case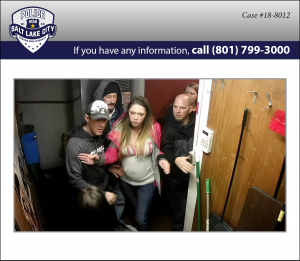 SALT LAKE CITY — The Salt Lake City Police Department is seeking the public's assistance in identifying five people (pictured above) that were involved in a fight at the Jackalope Lounge located at 372 South State Street in Salt Lake City on Saturday, January 13th, 2018 at approximately 9:30 p.m.
The assault took place inside the bar towards the back area. If you have any information or can identify these people, please contact the SLCPD.
Descriptions:
First female adult with blonde hair wearing a pink jacket and a grey sweatshirt with the word "Love" written in pink lettering.
Second female adult with blonde hair wearing a black shirt and black pants.
First male adult wearing a grey and white baseball cap with sunglasses on cap, and a G.I. Joe grey hooded sweatshirt.
Second male adult wearing a black beanie cap with a grey hooded sweatshirt and a goatee.
Third male adult is bald with a goatee and is wearing a grey and black zip-up jacket.
The Police Department asks anyone who may know the identity and/or location of these persons of interest to call (801) 799-3000. Anonymous tips may be sent by text to 274637. Please start your text with TIPSLCPD, which routes it to the police department. Then include any relevant information. Reference: Case # 18-8012.
###