Press Release: SLCPD Seeks Persons of Interest in Assault Case
January 17, 2018
In Memoriam: Detective Green Hamby (1921)
February 8, 2018
SLCPD Seeks Persons of Interest
in Homicide Cold Case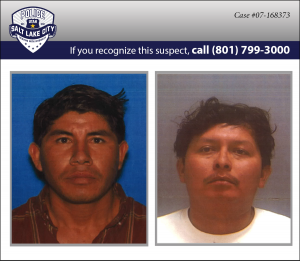 SALT LAKE CITY — The Salt Lake City Police Department is seeking the public's assistance in locating two people (pictured above) that may have information about a homicide cold case from Monday, September 10, 2007 at 6:30 a.m.
This occurred at 1054 North Victoria Way apartment #1 in Salt Lake City. The victim has been identified as Maria Rosas Sanchez, age 39. It's possible the two persons of interest returned to Mexico.
Persons of Interest:
Rafael Gutierrez, age 43 (Pictured Left)
Guadelupe Jimenez Martinez, age 42 (Pictured Right)
The Police Department asks anyone who may know the location of these persons of interest to call (801) 799-3000. Anonymous tips may be sent by text to 274637. Please start your text with TIPSLCPD, which routes it to the police department. Then include any relevant information. Reference: Case # 07-168373.
###