SLCPD Looking to Identify Suspects in Bank Robbery
April 5, 2018
Road Closures Expected During Utah Marathon
April 10, 2018
Update 
SLCPD Wants to Identify Suspects in Home Burglary and Credit Card Theft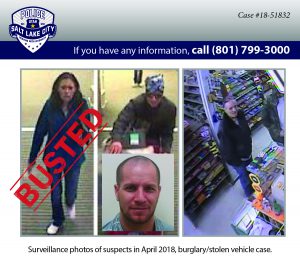 SALT LAKE CITY — The above pictured subjects are suspects in a home burglary that occurred on March 24. During the burglary credit cards were stolen. The credit cards were used at various stores in Salt Lake and the Bountiful area. Several of the items purchased were for home décor.  A vehicle was also stolen and is still outstanding. That vehicle is a white 2017 Nissan Armada, Utah plate W082TM. The suspects are believed to frequent or reside in the areas of Glendale and Rose Park.
Update – The female suspect was identified from tips that were called in. Her name is Heather Thayne, 40. She was booked into jail on several charges related to the burglary and use of the credit cards. The male has been identified as Charles Wright, 37. He was booked into jail for felony use of the credit cards, and was released 90 minutes later. After further follow up by detectives, it was determined that he is in possession of more stolen items related to the burglary. He may be driving a 2013 silver Kia Soul, P834E.
SLCPD is asking for the public's help in locating him. We would also like to identify a third subject that was with the suspects when the stolen cards were used.
The Nissan Armada is still outstanding. We are asking for the public's help in recovering that vehicle as well.
The two suspects are related to several other burglaries, thefts, and use of stolen credit cards across the Wasatch front.
The Police Department asks anyone who may know the identity and/or location of these suspects or location of vehicle to call (801) 799-3000. Anonymous tips may be sent by text to 274637. Please start your text with TIPSLCPD, which routes it to the police department. Then include any relevant information. Reference: Case # 18-51832
###