Updated Press Release: SLCPD Wants to Identify Suspects in Home Burglary and Credit Card Theft
April 6, 2018
In Memoriam: Sergeant Alonzo M. Wilson (1894)
April 12, 2018
Road Closures Expected During Utah Marathon
April 21, 2018 — The Salt Lake City Police reminds the public to expect traffic delays and road closures Saturday morning, April 21, due to the Utah Marathon.
Officers will accommodate traffic as safety allows. However, motorists should expect periods of time when cars may have to wait as long as 20 minutes or more.
Start times for Utah Marathon events:
6:00 a.m. — Bike Tour
6:20 a.m. — Wheelchair & Handcycle
7:00 a.m. — Marathon start
7:00 a.m. — Half Marathon start
7:10 a.m. — 5K Run and Walk
8:00 a.m. — Kids Activities Begin
8:00 a.m. — Awards Ceremony (5K)
9:00 a.m. — Awards Ceremony (Half Marathon)
10:30 a.m. — Awards Ceremony (Marathon)
Please drive with care and patience when crossing the course and encountering Utah Marathon participants.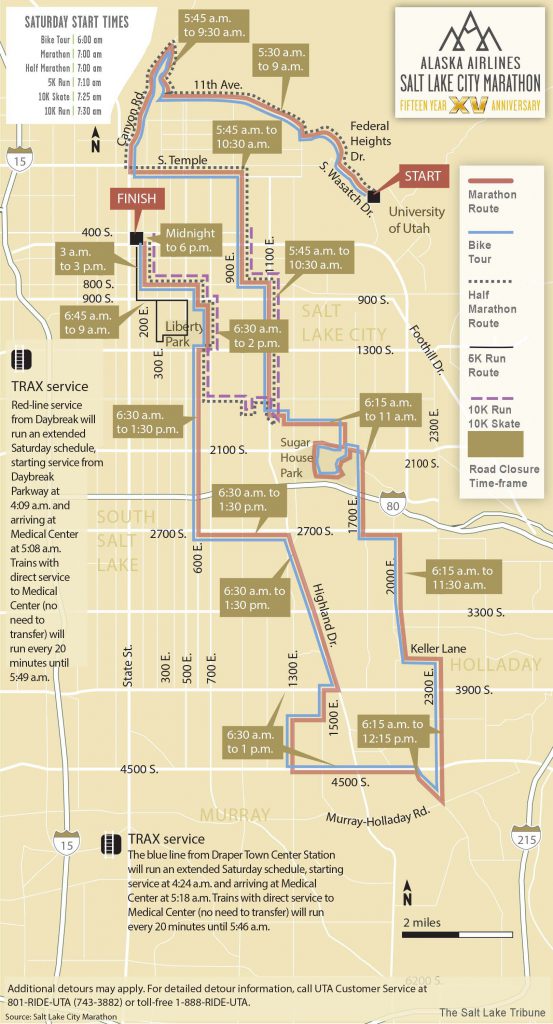 Have more questions? No problem! Email the event organizers at info@saltlakecitymarathon.com and provide your starting address, destination address, and your time of travel on race day. This is your best option to get the most accurate and helpful detour route.
You can also call the Salt Lake City Marathon information hotline at (866) 311-SLCM (7526). Please understand you may need to leave a voicemail and the team will return your call as soon as possible.