SLCPD Unearths Remains from Homicide
November 19, 2017
SLCPD Announces Retirement of Airport Police Patch and Badge at Formal Ceremony
February 25, 2019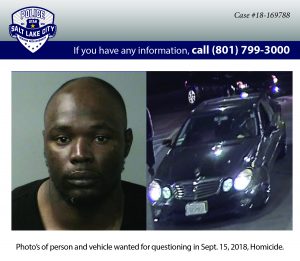 SALT LAKE CITY — The Salt Lake City Police Department is seeking the public's assistance in locating an individual wanted for questioning in the homicide that occurred downtown in the early morning hours of September 15th 2018. Salt Lake City Police would like to locate and speak with Thalwallkelah Lamar Washington. Thalwallkelah goes by his middle name, Lamar, and is 38 years old. Lamar is known to drive a black, 2007, Mercedes Benz with California license plate 7XCP832.
Detectives have also received information that cell phone video of this incident may have been taken by parties uninvolved in the incident. Police are asking anyone who may have witnessed the incident, or whom may have taken cell phone video to please contact SLCPD.
The Police Department asks anyone who with information to call (801) 799-3000. Anonymous tips may be sent by text to 274637. Please start your text with TIPSLCPD, which routes it to the police department. Then include any relevant information. Reference: case #18-169788.
###