Police Seek To Identify Suspect In Robberies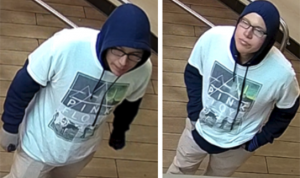 SALT LAKE CITY — The Salt Lake City Police Department is seeking the public's assistance in identifying the suspect from two robberies that occurred on Saturday, November 17, 2018 at 8:15 p.m. and 8:22 p.m.
The suspect entered the Del Taco at 809 East 400 South and passed a note to an employee demanding cash. The suspect left and then entered the Papa Murphy's Pizza located at 302 South 700 East, presented a note and demanded cash. The suspect is described as a male adult with light skin in his 20's, wearing glasses, a dark-blue hoodie with a white t-shirt on top, one gray glove with black rubber on the palm and a blue brace on the other hand.
The Police Department asks anyone who may know the identities or whereabouts of the subjects to call (801) 799-3000. Anonymous tips may be sent by text to 274637. Please start your text with TIPSLCPD, which routes it to the police department. Then include any relevant information. Reference: case #18-211511 and 18-211517.
###