SLCPD Commemorates Fallen Officers During Police Weekend
October 13, 2021
SLCPD Investigating Deadly Pursuit Under OICI Protocols
October 19, 2021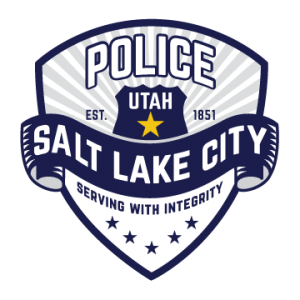 SALT LAKE CITY POLICE DEPARTMENT
Mike Brown Police Chief
| | |
| --- | --- |
| PUBLIC INFORMATION | October 19, 2021 |
  FOR IMMEDIATE RELEASE
SLCPD Arrest Suspect in Pioneer Park Stabbing    
SALT LAKE CITY — Today, the Salt Lake City Police Department announced the arrest of a 26-year-old man in connection to a stabbing that occurred over the weekend at Pioneer Park.
At approximately 7 p.m. on Saturday October 16, 2021, officers responded to Pioneer Park after receiving information that someone had been stabbed multiple times. Responding officers treated the victim on scene using torniquets. Paramedics transported the victim, a male in his 40s, to a local hospital with non-life-threatening injuries.
Officers conducted an extensive search for the suspect but were unable to initially locate him. Through the investigation, officers learned of a possible identity of the suspect.
At approximately 8 a.m. on Tuesday October 19, 2021 officers responded to an in-progress burglary near 100 South 300 East. The victim reported that someone was attempting to break into his apartment.
Officers arrived on scene and saw the suspect hitting the apartment door with an axe while holding with a knife. Officers safely took the suspect into custody. During their investigation, officers discovered the burglary suspect was also connected to Saturday's stabbing in Pioneer Park.
The suspect in both cases is identified as 26-year-old Ibrahim Albasis.
During the burglary investigation, officers learned that Albasis was invited into the apartment Monday night but was then asked to leave and was no longer welcomed. Officers also learned Albasis returned this morning and tried breaking the door down using the axe while the tenants inside held the door shut—fearing for their safety.
Albasis was transported to the Salt Lake County Jail and booked on the following charges: Aggravated Assault, Aggravated Burglary, and Criminal Mischief.
Charges are only allegations. Every arrested person is presumed innocent unless and until proven guilty beyond a reasonable doubt.
There were no injuries reported by anyone involved in the burglary incident. No other information regarding the stabbing or burglary will be released by the SLCPD at this time.
Photos: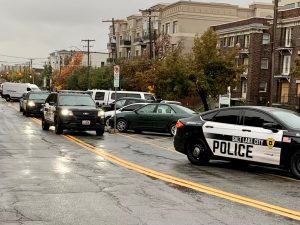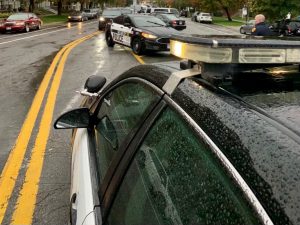 ###
MEDIA CONTACT:

Public Relations Unit

801.799.NEWS

801.799.6397

PUBLIC SAFETY BUILDING:

475 South 300 East

MAILING ADDRESS:

PO Box 145497, SLC UT, 84114-5497

EMAIL:

WEBSITE: