SLCPD Arrest Man For DUI, Locate Multiple Weapons
SALT LAKE CITY — Officers assigned to the Salt Lake City Police Department have recovered multiple dangerous weapons following the arrest of a 26-year-old man who is accused of driving under the influence. This investigation started at 6:10 a.m. on Monday, December 6, 2021, in the area of 1400 South 300 West after officers responded to a report of a possible road rage incident.
After receiving the description of the suspect's vehicle, officers located it and attempted to stop the driver. The driver, 26-year-old Onkar Singh, refused to comply and continued driving away in a reckless manner. Officers did not pursue Singh and continued their investigation.
Officers located the vehicle, still occupied by Singh, in a parking lot at 1200 South 900 West.
Officers safely took Singh into custody after he initially refused to comply.
During the investigation, officers developed probable cause to arrest Singh for DUI.
After the arrest, officers located a loaded handgun with the serial number shaved off, two batons, multiple knives, a sword, a knife with brass knuckles, and two sai daggers.
Singh was transported to the Salt Lake County Metro Jail and booked on the following charges: Driving Under the Influence (DUI), Refusal of Chemical Test, Obstruction of Justice, Failure to Stop at the Command of a Police Officer, Failure to Respond to Officer's Signal to Stop, Disorderly Conduct, Altered Number on Pistol, Possession of a Firearm by a Restricted Person, Possession of a Dangerous Weapon (x8), Possession of Drug Paraphernalia, and Reckless Driving.
Charges are only allegations, and every arrested person is presumed innocent unless and until proven guilty beyond a reasonable doubt.
No other information about this incident can be released at this time.
A photo of the firearm and weapons seized as part of this ongoing investigation is being released.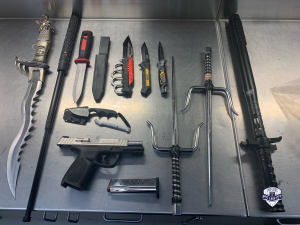 ###