SLCPD Officers Find 1.5 Pounds of Meth During Arrest
SALT LAKE CITY — Recently, officers with the Salt Lake City Police Department's Pioneer Patrol Division arrested a 48-year-old man after finding him in possession of more than one pound of methamphetamine.
This investigation started around 1 a.m. on Monday May 16, 2023, when a community member called 9-1-1 and reported a suspicious car near 820 South Pueblo Street.
SLCPD patrol officers found the car and noticed the driver, later identified as Feteleni Sekona, asleep behind the wheel. Officers safely took Sekona into custody.
Officers determined the car Sekona was in had been reported stolen.
During their investigation, officers found a bag containing about 1.5 pounds of methamphetamine as well as drug paraphernalia.
Officers took Sekona to the Salt Lake County Metro jail and booked him on charges of possession of a controlled substance with intent to distribute, possession of paraphernalia, receiving stolen property, possession of a stolen license plate, and outstanding warrants, including a warrant out of California for robbery.
Charges are only allegations, and every arrested person is presumed innocent unless and until proven guilty beyond a reasonable doubt.
The Salt Lake City Police Department is not the custodian of record for jail booking photos. Utah Code 17-22-30 mostly prohibits the release of jail booking photos. Generally, a jail booking photo can only be released by the custodian of record after a conviction or when law enforcement determines the person is a fugitive or an imminent threat to a person or public safety. In Salt Lake City, the Salt Lake County Sheriff's Office is the custodian of record for jail booking photos.
A photo of the methamphetamine is being released. Media may use this photo with proper credit to the Salt Lake City Police Department.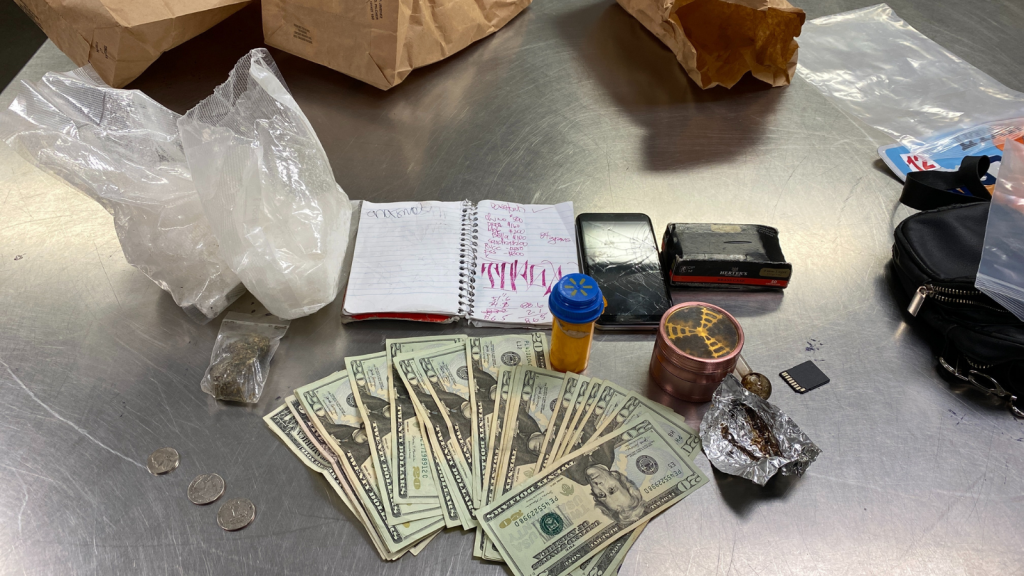 1 – Photo of methamphetamine, cash, and drug paraphernalia (SLCPD | May 19, 2023).
###