SLCPD Officers, K9 Squad Capture Vandalism Suspect
SALT LAKE CITY — A collaborative effort by the Salt Lake City Police Department's Central and Pioneer Patrol Division and the department's patrol K9 Squad resulted in the safe capture of a vandalism suspect.
This investigation started at 11:36 p.m. on Thursday, May 18, 2023, when a community member called 9-1-1 and reported someone smashing windows near 100 South and 600 West.
Officers quickly arrived and found 27-year-old Hiram Bokatrik near 50 North and 600 West. When an officer turned on his patrol car's lights, Bokatrik started running away.
Officers locked down the area and requested help from the Salt Lake City Police Department's K9 Squad.
Once a K9 Squad arrived, the K9 handler deployed his dog which immediately detected and started following a scent trail.
As officers searched with the K9 Squad, they saw Bokatrik running in a field.
Officers ordered Bokatrik to stop but he refused.
Bokatrik eventually stopped running and officers safely took him into custody.
While arresting Bokatrik, he repeatedly resisted.
Officers believe Bokatrik vandalized a total of four cars and one building by smashing out windows.  Bokatrik is also accused of stealing headphones from one of the cars he vandalized.
While searching Bokatrik during the arrest process, officers found a pair of headphones in Bokatrik's pocket.
Officers took Bokatrik to the Salt Lake County Metro Jail and charged him with five counts of criminal mischief, one count of vehicle burglary, one count of failing to stop at the command of a police officer, and one count of interfering with an arresting officer.
The Salt Lake City Police Department's K9 Squads represents an invaluable asset in the department's ongoing mission to maintain service to community members. The department's K9 handlers and their dogs are essential components of the department's daily operations, support patrol officers, and serve a vital role in helping to ensure public safety.
The Salt Lake City Police Department's patrol K9 Squad consists of four bloodhounds for tracking and locating suspects, missing people, and items of evidentiary value. The SLCPD K9 Squad also includes two narcotic detection dogs for locating narcotics.
The Salt Lake City Police Department's Airport Division's K9 Squad consists of five officers and their K9 partners.
Several photos from the scene are being released. Media may use these photos with credit to the Salt Lake City Police Department.
Charges are only allegations, and every arrested person is presumed innocent unless and until proven guilty beyond a reasonable doubt.
The Salt Lake City Police Department is not the custodian of record for jail booking photos. Utah Code 17-22-30 mostly prohibits the release of jail booking photos. Generally, a jail booking photo can only be released by the custodian of record after a conviction or when law enforcement determines the person is a fugitive or an imminent threat to a person or public safety. In Salt Lake City, the Salt Lake County Sheriff's Office is the custodian of record for jail booking photos.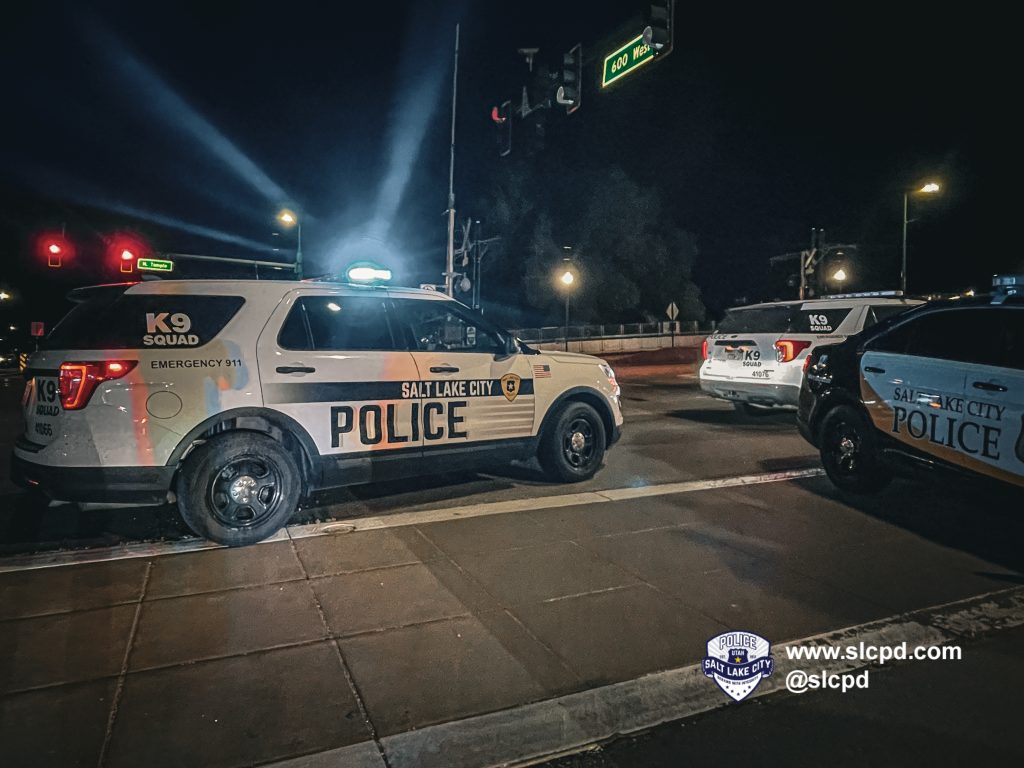 1 – A Salt Lake City Police Department patrol K9 Squad SUV parked on North Temple Street with its lights on (SLCPD | May 18, 2023).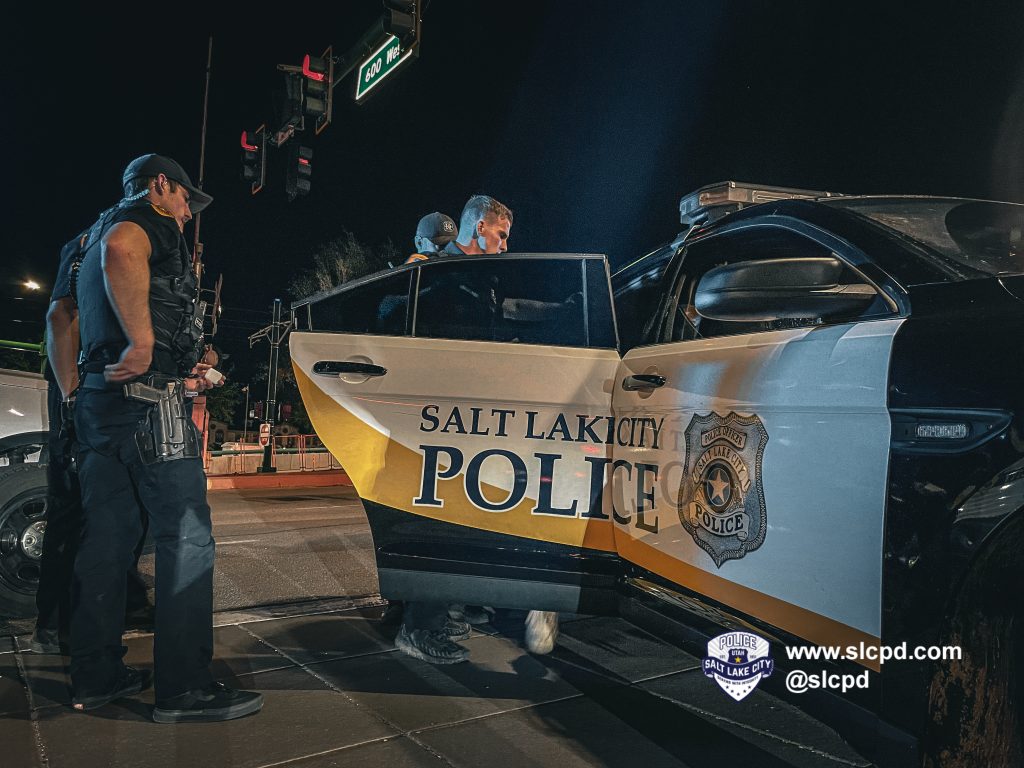 2 – Salt Lake City Police patrol officers stand outside a patrol car with the back passenger door open as they arrest a vandalism suspect (SLCPD | May 18, 2023).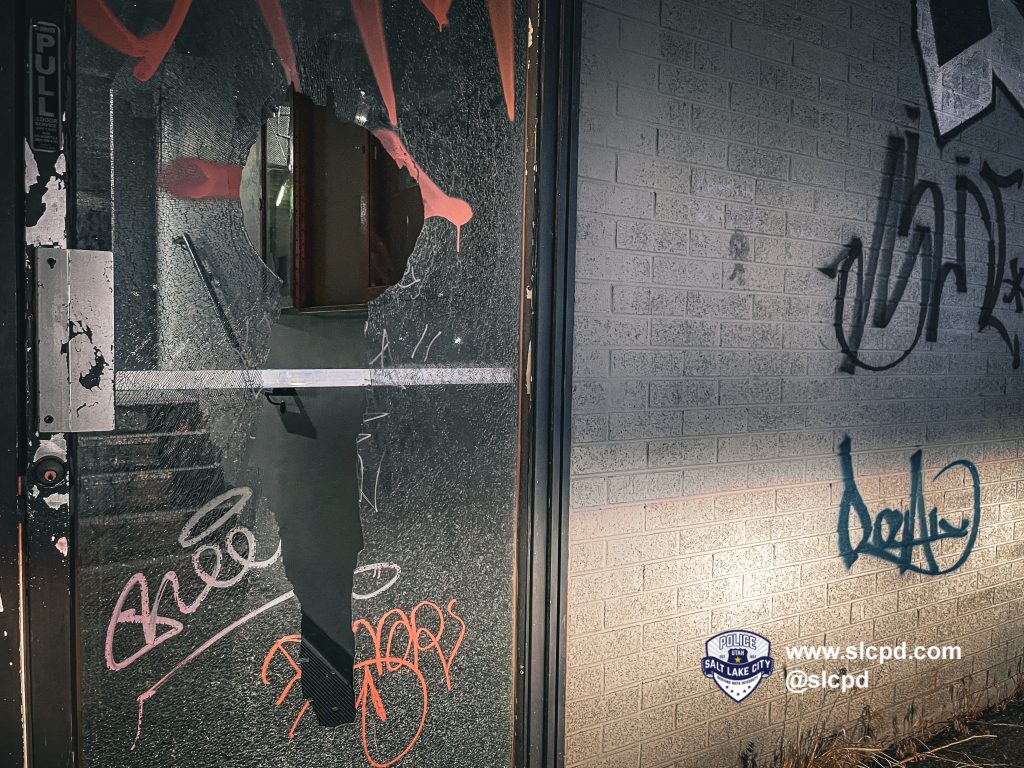 3 – A suspect, later captured by Salt Lake City Police, is accused of breaking out this window in downtown (SLCPD | May 18, 2023).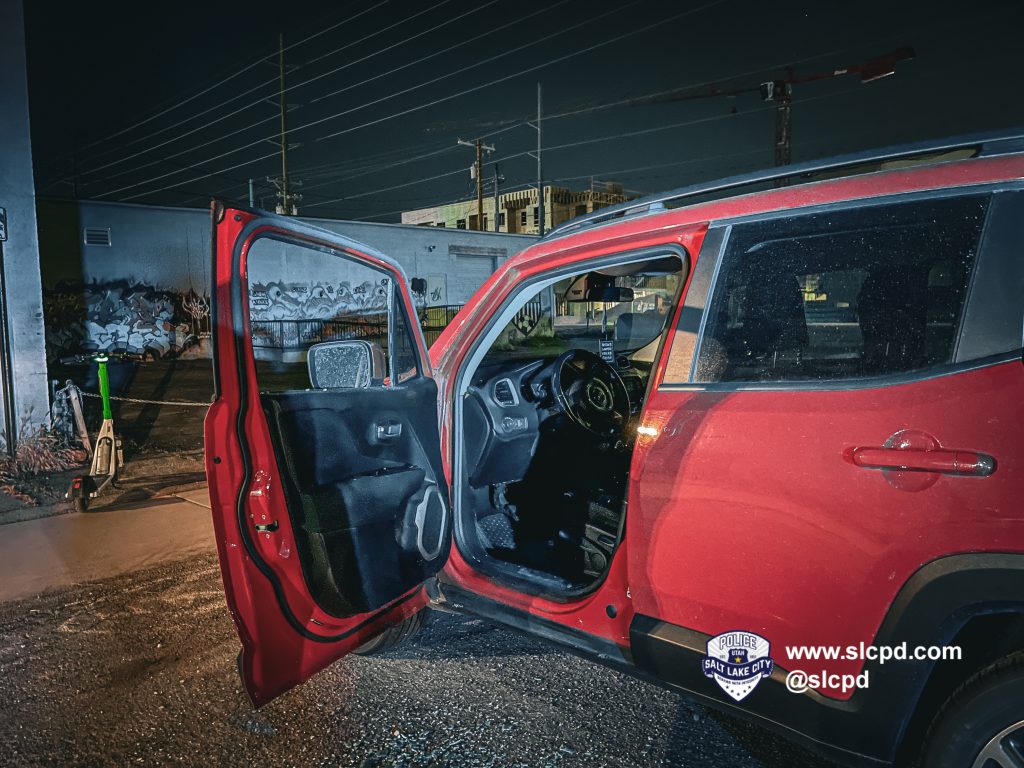 4 – A red Jeep SUV with its door open and window shattered. SLCPD officers arrested the suspect (SLCPD | May 18, 2023).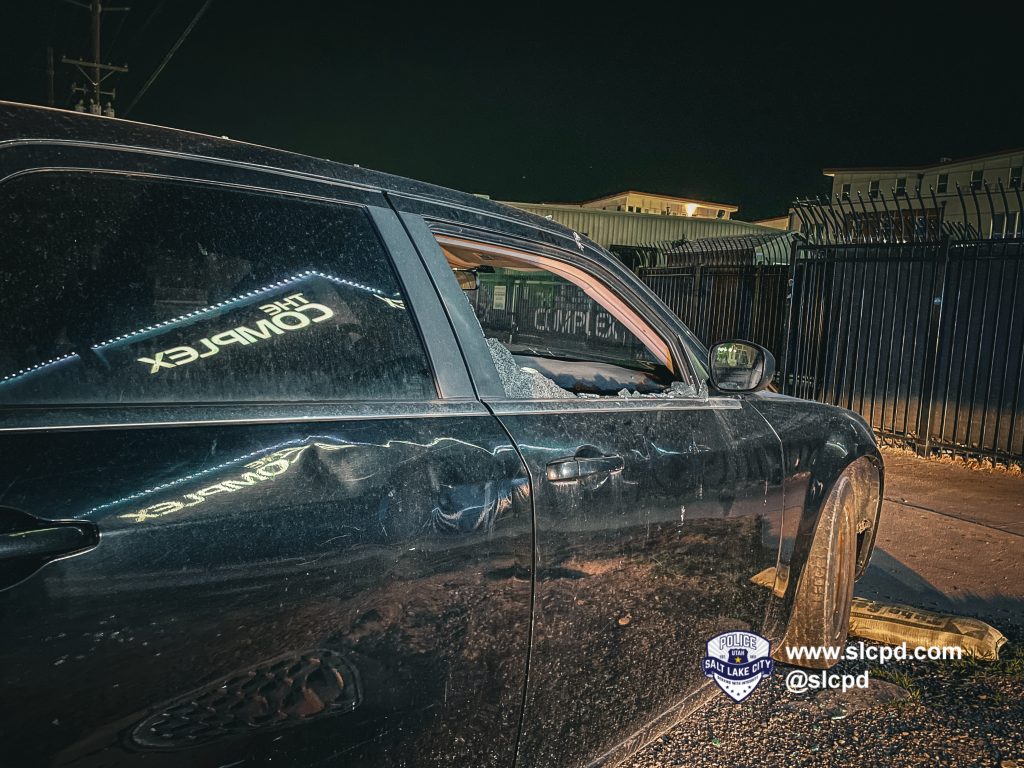 5 – A dark-colored car parked with its passenger side window broken out. SLCPD officer captured the suspect (SLCPD | May 18, 2023).
###