In Memoriam: Detective James W. Cawley
March 29, 2012
SLCPD Relaunches Website
April 13, 2012
Plan ahead, park where legal 
SALT LAKE CITY — The Salt Lake City Police Department is preparing to handle traffic congestion and parking issues downtown as more than 100,000 people attend the 182nd Annual General Conference of the Church of Jesus Christ of Latter-day Saints this Saturday and Sunday, March 31 – April 1, 2012.
The Police Department's Motorcycle Squad will provide traffic control, while parking enforcement officers will ensure access is maintained in residential neighborhoods adjacent to the LDS Church's Conference Center and Temple Square. Cars improperly parked on neighborhood streets may be ticketed or towed at the owner's expense.
North Temple between Main Street and West Temple will be closed for 30 minutes at the end of each conference session in order to facilitate egress.
Contact: Reporters seeking comment should contact the Public Information Officer at 801.799.NEWS (6397).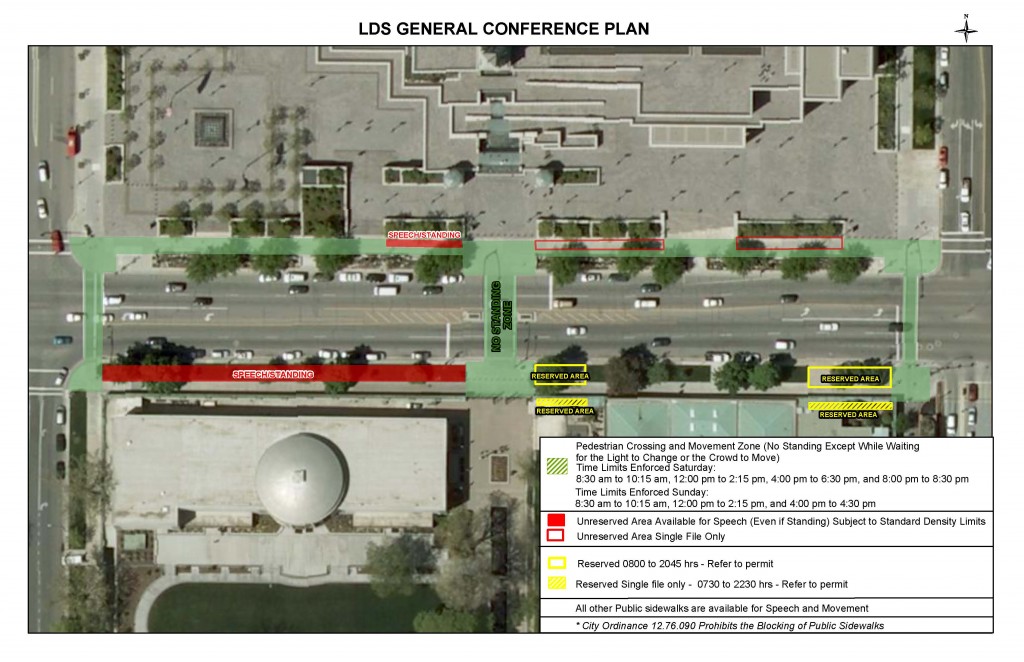 Map of General Conference area with free speech zones highlighted.
###