SLCPD Peacefully Resolves Mental Health Crisis After Two Hour Standoff
February 12, 2022
SLCPD Investigating Suspicious Death
February 15, 2022
February 15, 2022
Media Contact Information: PolicePRUnit@slcgov.com
SLCPD Identifies Suspects in Blaire Leavitt Murder Investigation
SALT LAKE CITY — The Salt Lake City Police Department, identified six people as suspects in the 2019 homicide of Blaire Leavitt and/or the obstruction of justice that resulted following her death.
This investigation started at 7:41 a.m. on July 27, 2019 when Salt Lake City Police responded to a residence near 1200 North Redwood Road. Officers arrived and located Ms. Leavitt with a gunshot wound. Paramedics immediately transported Ms. Leavitt to the hospital for emergency surgery but unfortunately, she died at the hospital.
SLCPD Homicide Detectives responded to the scene and began conducting a thorough investigation, which resulted in detectives learning the identities of six suspects in the murder of Ms. Leavitt and the obstruction of justice that has occurred since her death.
The suspects are identified as 26-year-old Katoa Pahulu, 36-year-old Lachelle Fiefia, 26-year-old Mapilivai Laulea, 22-year-old Sunia Cavazos, 37-year-old Tevita Kofutua, and 41-year-old Timote Fonua.
Through this investigation, the SLCPD Homicide Squad has verified all six suspects were present at the time of the homicide and/or had some sort of role in this case immediately after the homicide.
SLCPD Captain Victor Siebeneck said, "It's time you come forward. You've been running from justice for too long. This is your chance to set the record straight – to tell us what happened and to be the one who does the right thing and to tell us who killed Ms. Leavitt."
None of the suspects identified have been arrested or charged. They remain suspects and the SLCPD Homicide Squad is seeking information about them.
A full copy of the press conference held at the Public Safety Building on February 15, 2022 can be obtained by clicking here.
A graphic of the six suspects is being included with this press release.
Anyone with information on this case should call 801-799-3000 and reference case number 19-137096.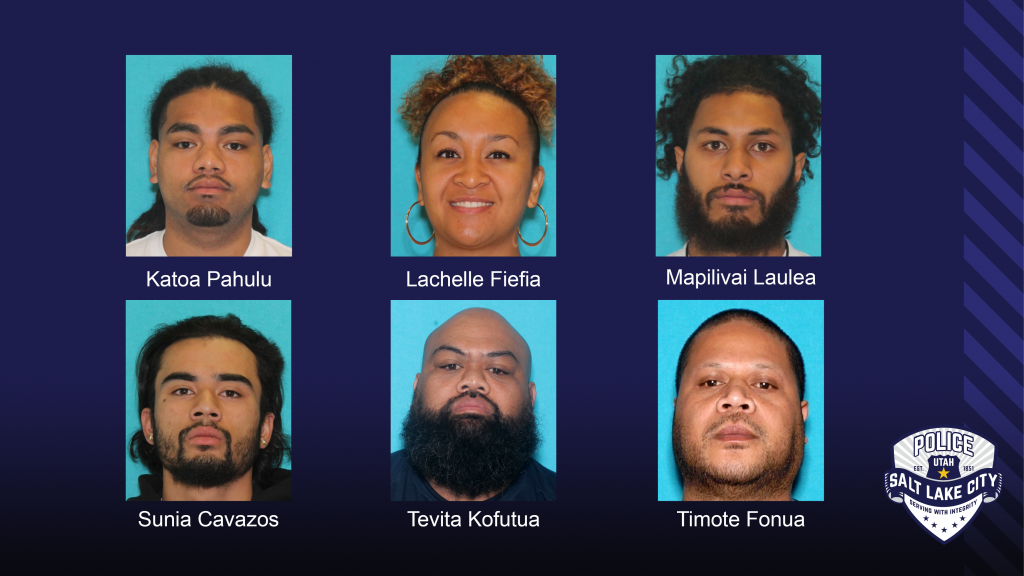 ###